What happened?
More than 200 firefighters and 40 fire engines responded to the fire at the 24-storey block in North Kensington, after it was reported at 00:54 BST (23:54 GMT).
It took until 01:14 BST the following day to get it under control, with the fire destroying 151 homes, both in the tower and surrounding areas.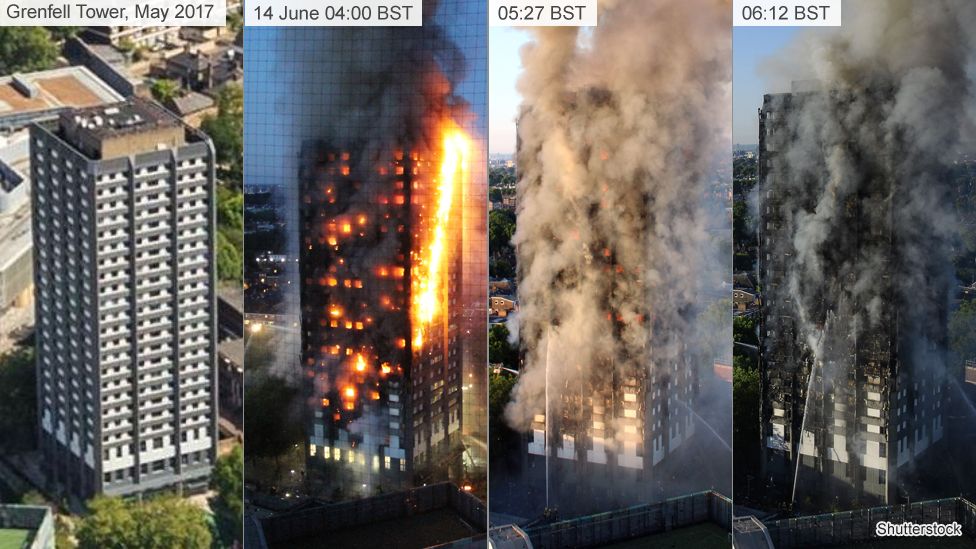 Seventy-two people died in the fire, including baby Logan Gomes, who was stillborn in hospital on 14 June after his parents escaped the tower block, and Maria Del Pilar Burton, 74, who died in January 2018.
She had been in hospital since being rescued from the 19th floor.
The Metropolitan Police say 350 people should have been in the tower block on the night of the blaze. Fourteen residents were not in the building at the time.
Sixty-five people were rescued by the fire brigade. But a BBC investigation found a series of failings hampered the efforts of firefighters to tackle the fire and rescue the building's residents.
Grenfell Tower fire: Who were the victims?
London Mayor Sadiq Khan said fire crews only managed to reach the 12th floor at the height of the fire.
There were claims from within the local community – and by celebrities such as Lily Allen and rapper Akala – that the true death toll was being suppressed by the media.
---
What caused the fire?
The fire started in a Hotpoint fridge freezer on the fourth floor. Police say it was not started deliberately.
Footage has shown the fire spreading up one side of the building externally, before engulfing the entire block.
A subsequent investigation said the Hotpoint FF175B model posed a "low risk" and did not need modifications.